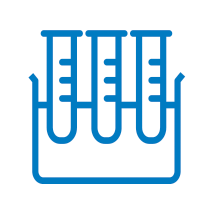 Services
Functional Assays & Assay Development
We offer our experience in Functional Assays & Assay Development for detailed mechanistic studies of a target protein, bioanalytical measurments and high-throughput screening. Since we thoroughly characterize the materials for which an assay is developed, our assays have maximized signal windows, low variability and are economical. These assays can have diverse applications such as analysis of enzyme activities, small molecule binding to proteins, protein-protein interactions and nucleic acid-protein interactions. In addition, we offer our services for outsourcing your assays or mechanistic studies.

FUNCTIONAL MODES
protein-protein, protein-nucleic acid, protein-small molecule or peptide binding interactions
receptor functional assays
enzymatic activity
direct, indirect, sandwich, and competitive ELISA - ELISA Development
inhibition
ASSAY FORMATS
96-well plate
single sample (for UV/Vis absorbance)
HTS-compatible
PREFERRED DETECTION METHODS
fluorescence intensity
fluorescence polarization
fluorescence energy resonance transfer (FRET)
luminescence
light absorbance
ASSAY TARGETS
enzymes
antibodies
receptors
inhibitors
peptides
small molecules
ASSAY DELIVERABLES
binding site characterization (Bmax and Jd)
enzyme steady state kinetic parameters determination (Km and Vmax)
inhibitor characterization
single point inhibition for multiple inhibitors at a specified concentration
IC50 and Ki determination
analysis of tight binding inhibitor kinetics
concentration determination for proteins, peptides and small molecules

Useful Tools for a Functional Assays & Assay Development Project
Michaelis-Menten Calculator
Protein Interactions Calculator
Protein-Protein Interactions Databases
Serial Dilurion Calculator and Planner
Selected Latest Developments in Functional Assays & Assay Developmen
AirID, a novel proximity biotinylation enzyme, for analysis of protein–protein interactions
Kohki Kido et al.,
eLife
. 2020; 9: e54983.
Abstract
Proximity biotinylation based on
Escherichia coli
BirA enzymes such as BioID (BirA*) and TurboID is a key technology for identifying proteins that interact with a target protein in a cell or organism. However, there have been some improvements in the enzymes that are used for that purpose. Here, we demonstrate a novel BirA enzyme, AirID (ancestral BirA for proximity-dependent biotin identification), which was designed de novo using an ancestral enzyme reconstruction algorithm and metagenome data. AirID-fusion proteins such as AirID-p53 or AirID-IκBα indicated biotinylation of MDM2 or RelA, respectively, in vitro and in cells, respectively. AirID-CRBN showed the pomalidomide-dependent biotinylation of IKZF1 and SALL4 in vitro. AirID-CRBN biotinylated the endogenous CUL4 and RBX1 in the CRL4CRBN complex based on the streptavidin pull-down assay. LC-MS/MS analysis of cells that were stably expressing AirID-IκBα showed top-level biotinylation of RelA proteins. These results indicate that AirID is a novel enzyme for analyzing protein–protein interactions.
Read more
Development of a cell-free split-luciferase biochemical assay as a tool for screening for inhibitors of challenging protein-protein interaction targets
Rachel Cooley et al., Version 1.
Wellcome Open Res
. 2020; 5: 20.
Abstract
Targeting the interaction of proteins with weak binding affinities or low solubility represents a particular challenge for drug screening. The NanoLuc â ® Binary Technology (NanoBiT â ®) was originally developed to detect protein-protein interactions in live mammalian cells. Here we report the successful translation of the NanoBit cellular assay into a biochemical, cell-free format using mammalian cell lysates. We show that the assay is suitable for the detection of both strong and weak protein interactions such as those involving the binding of RAS oncoproteins to either RAF or phosphoinositide 3-kinase (PI3K) effectors respectively, and that it is also effective for the study of poorly soluble protein domains such as the RAS binding domain of PI3K. Furthermore, the RAS interaction assay is sensitive and responds to both strong and weak RAS inhibitors. Our data show that the assay is robust, reproducible, cost-effective, and can be adapted for small and large-scale screening approaches. The NanoBit Biochemical Assay offers an attractive tool for drug screening against challenging protein-protein interaction targets, including the interaction of RAS with PI3K
Read more
Multiplexed single-molecule enzyme activity analysis for counting disease-related proteins in biological samples
Shingo Sakamoto et al.,
Sci Adv
. 2020 Mar; 6(11): eaay0888.
Abstract
We established an ultrasensitive method for identifying multiple enzymes in biological samples by using a multiplexed microdevice-based single-molecule enzymatic assay. We used a paradigm in which we "count" the number of enzyme molecules by profiling their single enzyme activity characteristics toward multiple substrates. In this proof-of-concept study of the single enzyme activity–based protein profiling (SEAP), we were able to detect the activities of various phosphoric ester–hydrolyzing enzymes such as alkaline phosphatases, tyrosine phosphatases, and ectonucleotide pyrophosphatases in blood samples at the single-molecule level and in a subtype-discriminating manner, demonstrating its potential usefulness for the diagnosis of diseases based on ultrasensitive detection of enzymes.
Read more