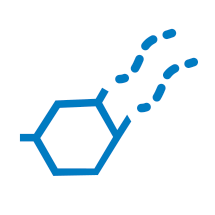 Services
Endotoxin Removal & Testing
Endotoxin Removal from biological solutions is critical for many in vivo and cell-based applications, as it interferes with biological response. Endotoxins are liposaccharides that are found in the outer cell wall of Gramm-negative bacteria. Bacteria release endotoxins at the time of lysis. The toxic effect of endotoxins is triggered by its interaction with specific receptors on the immune cells resulting in the release of high concentrations of cytokines and other molecules of immunological significance. Since adventitious endotoxin is present in air, water, labware and it cannot be removed by simple sterilization, it is almost impossible to generate endotoxin-free solutions without a removal procedure. Each Endotoxin Removal project requires a protocol development step that takes into consideration biophysical properties of a target molecule, final sample application and desired formulation. For years we had successfully developed Endotoxin Removal protocols to meet strict endotoxin presence requirements. We are confident that we can make your Endotoxin Removal project a success.

CUSTOM ENDOTOXIN REMOVAL FROM AQUEOUS SOLUTIONS OF:
proteins
DNA 
peptides
biomass
METHODS ARE BASED ON:
charge
hydrophobicity
combinantion of charge and hydrophobicity
ligand affinity
size
SERVICE FEATURES:
protein losses are minimized by selection of an appropriate endotoxin removal method and its optimization
scales range from mg to g of a target molecule
endotoxin-free samples are sterilized and distributed into multiple aliquots for convenience
delivered in an application-compatible buffer
turnaround times are less than 1 week in most cases - Endotoxin Assay Quote Request
detergent-compatible r-Factor C fluorescence-based assay
detection levels below 0.01EU/ml
LAL kinetic assay and other endotoxin assays are available

Useful Tools for Endotoxin Removal & Testing Project
Calculating Endotoxin Limits for Drug Products
Guidance for Industry: Pyrogen and Endotoxins Testing: Questions and Answers
Selected Latest Developments in Endotoxin Removal & Testing
Current technologies to endotoxin detection and removal for biopharmaceutical purification
Mason Schneier et al.,
Biotechnol Bioeng
., 2020 Aug;117(8):2588-2609.
Abstract
Endotoxins are the major contributors to the pyrogenic response caused by contaminated pharmaceutical products, formulation ingredients, and medical devices. Recombinant biopharmaceutical products are manufactured using living organisms, including Gram-negative bacteria. Upon the death of a Gram-negative bacterium, endotoxins (also known as lipopolysaccharides) in the outer cell membrane are released into the lysate where they can interact with and form bonds with biomolecules, including target therapeutic compounds. Endotoxin contamination of biologic products may also occur through water, raw materials such as excipients, media, additives, sera, equipment, containers closure systems, and expression systems used in manufacturing. The manufacturing process is, therefore, in critical need of methods to reduce and remove endotoxins by monitoring raw materials and in-process intermediates at critical steps, in addition to final drug product release testing. This review paper highlights a discussion on three major topics about endotoxin detection techniques, upstream processes for the production of therapeutic molecules, and downstream processes to eliminate endotoxins during product purification. Finally, we have evaluated the effectiveness of endotoxin removal processes from a perspective of high purity and low cost.
Read more
Novel RP-HPLC based assay for selective and sensitive endotoxin quantification
Blanka Bucsella et al.,
Anal Methods
, 2020 Oct 8;12(38): 4621-4634.
Abstract
The paper presents a novel instrumental analytical endotoxin quantification assay. It uses common analytical laboratory equipment (HPLC-FLD) and allows quantifying endotoxins (ETs) in different matrices from about 109 EU per mL down to about 40 EU per mL (RSE based). Test results are obtained in concentration units (e.g. ng ET per mL), which can then be converted to commonly used endotoxin units (EU per mL) in case of known pyrogenic activity. During endotoxin hydrolysis, the endotoxin specific rare sugar acid KDO is obtained quantitatively. After that, KDO is stoichiometrically reacted with DMB, which results in a highly fluorescent derivative. The mixture is separated using RP-HPLC followed by KDO-DMB quantification with a fluorescence detector. Based on the KDO content, the endotoxin content in the sample is calculated. The developed assay is economic and has a small error. Its applicability was demonstrated in applied research. ETs were quantified in purified bacterial biopolymers, which were produced by Gram-negative bacteria. Results were compared to LAL results obtained for the same samples. A high correlation was found between the results of both methods. Further, the new assay was utilized with high success during the development of novel endotoxin specific depth filters, which allow efficient, economic and sustainable ET removal during DSP. Those examples demonstrate that the new assay has the potential to complement the animal-based biological LAL pyrogenic quantification tests, which are accepted today by the major health authorities worldwide for the release of commercial pharmaceutical products.
Read more
André Boivin: A pioneer in endotoxin research and an amazing visionary during the birth of molecular biology
Jean-Marc Cavaillon,
Innate Immun.
, 2020 Apr;26(3): 165-171.
Abstract
André Boivin (1895–1949) started his career in Marseille as a biochemist. Soon after the discovery of insulin, he worked on its purification, allowing for the treatment of local patients. He later moved to Strasbourg and set-up a microtitration technique of small carbon molecules and a method for quantifying purine and pyrimidine bases. His main scientific contribution occurred in Bucharest, where he was recruited to organize the teaching of medicinal chemistry. Together with Ion and Lydia Mesrobeanu, at the Cantacuzene Institute, they were the first to characterize the biochemical nature of endotoxins, which he termed the "glucido-lipidic antigen." After joining the Institut Pasteur annex near Paris, he worked with Gaston Ramon pursuing his research on smooth and rough LPS. Additionally, with Albert Delaunay, he researched the formation of exotoxins and antibodies (Abs). He was nominated assistant-director of the Institut Pasteur in 1940. He initiated research on bacterial DNA and RNA, and was the first to hypothesize on how RNA fits into gene function. In 1947 he moved for a second time to Strasbourg, accepting a position as a Professor of Biological Chemistry. After his premature death at the age of 54, the French academies mourned his loss and recognized him as one of their outstanding masters of biochemistry, microbiology, immunology, and molecular biology.
Read more