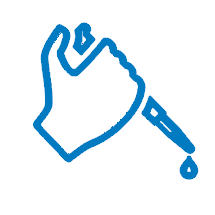 Services
ELISA Development
Enzyme-Linked Immunosorbent Assay (ELISA) is a widely used assay in diagnostics, drug discovery, clinical development and other life-science industries. This is a sensitive assay that detects and quantifies a target molecule in biological fluids or solutions. ELISA can be performed in various formats and platforms. Although a target-specific antibody is the central aspect of an ELISA, other components are also critical for the assay performance. Our seamless, integrated expertise in antibody-antigen biochemistry, functional assays, recombinant protein production, hybridoma cell culture, antibody purification, characterization and conjugation allows us to deliver a fully optimized and validated ELISA for its intended final application.

ELISA TYPES
direct
indirect
sandwich
competition
inhibition
ELISA DETECTION OPTIONS
visible absorbance
fluorescence
luminescence
ELISA DESIGN INCLUDES SELECTION OF:
assay format
antibody or antibody pair
standards
plate-coating chemistry
blocking and wash buffers
detection strategy
detection reagents
ELISA OPTIMIZATION INVOLVES TESTING OF VARIOUS:
concentrations of antibodies, samples and buffers
coating protocols
detection protocols
chessboard titrations
ELISA VALIDATION PARAMETERS ARE TESTED:
robustness / precision / trueness
uncertainty
limit of quantification
dilutional linearity
parallelism
recovery
selectivity
sample stability

Useful Tools for ELISA Development Project
Overview of ELISA
Serial Dilution Calculator
Selected Latest Developments in ELISA Development
One-incubation one-hour multiplex ELISA enabled by aqueous two-phase systems
Mintra Tongdee et al.,
Analyst
, 2020 May 18;145(10):3517-3527.
Abstract
This work describes a convenient one-hour enzyme-linked immunosorbent assay (ELISA) formulated with conventional antibodies and horseradish peroxidase (HRP) reagents. The method utilizes aqueous two-phase system (ATPS) droplet formation based on poly(ethylene glycol) (PEG)-containing sample solution-triggered rehydration of dehydrated dextran (DEX) spots that contain all antibody reagents. Key advances in this paper include development of a formulation that allows a quick 1-hour overall incubation time and a procedure where inclusion of the HRP reagent in the PEG solution reduces the number of washing and incubation steps required to perform this assay. As an assay application, a 5-plex cytokine test compares cytokine secretion of differentially-treated human ThP-1 macrophages. Given the use of only readily available reagents and a common Western blot imaging system for the readout, this method is envisioned to be broadly applicable to a variety of multiplex immunoassays. To facilitate broader use, companion image processing software as an ImageJ plugin is also described and provided.
Read more
Comparison of ELISA with electro-chemiluminescence technology for the qualitative and quantitative assessment of serological responses to vaccination
Jessica S. Bolton et al., Malar J, 2020 Apr 17;19(1):159.
Abstract
Background:
Profiling immune responses induced by either infection or vaccination can provide insight into identification of correlates of protection. Furthermore, profiling of serological responses can be used to identify biomarkers indicative of exposure to pathogens. Conducting such immune surveillance requires readout methods that are high-throughput, robust, and require small sample volumes. While the enzyme-linked immunosorbent assay (ELISA) is the classical readout method for assessing serological responses, the advent of multiplex assays has significantly increased the throughput and capacity for immunoprofiling. This report describes the development and assay performance (sensitivity, linearity of detection, requirement for multiple dilutions for each sample, intra- and inter-assay variability) of an electro-chemiluminescence (ECLIA)-based multiplex assay.
Methods:
The current study describes the development of a multiplex ECLIA-based assay and characterizes the sensitivity, linear range, and inter- and intra-assay variability of the ECLIA platform and its agreement with the traditional ELISA. Special emphasis was placed on potential antigenic competition when testing closely related antigens in the multiplex format.
Results:
Multiplexing of antigens in ECLIA provides significant practical benefits in terms of reducing sample volume requirements and experimental time. Beyond the practical advantages of multiplexing, the ECLIA provides superior assay performance when compared to the ELISA. Not only does ECLIA show good agreement with the ELISA assay, but the linear range of ECLIA is also sufficiently wide to permit single-dilution measurements of concentration without the need to do serial dilutions. The lack of antigenic competition allows the simultaneous testing of closely related antigens, such as plate antigens representing different alleles of the same protein, which can inform about cross-reactivities-or lack thereof-of serological responses.
Conclusion:
The advantages of the newly developed tool for assessing the antigen profiles of serological responses may ultimately lead to the identification of biomarkers associated with various disease stages and or protection against disease.
Read more
A Novel In-Cell ELISA Assay Allows Rapid and Automated Quantification of SARS-CoV-2 to Analyze Neutralizing Antibodies and Antiviral Compounds
Lara Schöler et al.,
Front Immunol
, 2020 Oct 9;11:573526.
Abstract
The coronavirus disease 2019 (COVID-19) caused by the severe acute respiratory syndrome coronavirus 2 (SARS-CoV-2) is currently the most pressing medical and socioeconomic challenge. Constituting important correlates of protection, the determination of virus-neutralizing antibodies (NAbs) is indispensable for convalescent plasma selection, vaccine candidate evaluation, and immunity certificates. In contrast to standard serological ELISAs, plaque reduction neutralization tests (PRNTs) are laborious, time-consuming, expensive, and restricted to specialized laboratories. To replace microscopic counting-based SARS-CoV-2 PRNTs by a novel assay exempt from genetically modified viruses, which are inapplicable in most diagnostics departments, we established a simple, rapid, and automated SARS-CoV-2 neutralization assay employing an in-cell ELISA (icELISA) approach. After optimization of various parameters such as virus-specific antibodies, cell lines, virus doses, and duration of infection, SARS-CoV-2-infected cells became amenable as direct antigen source for quantitative icELISA. Antiviral agents such as human sera containing NAbs or antiviral interferons dose dependently reduced the SARS-CoV-2-specific signal. Applying increased infectious doses, the icELISA-based neutralization test (icNT) was superior to PRNT in discriminating convalescent sera with high from those with intermediate neutralizing capacities. In addition, the icNT was found to be specific, discriminating between SARS-CoV-2-specific NAbs and those raised against other coronaviruses. Altogether, the SARS-CoV-2 icELISA test allows rapid (<48 h in total, read-out in seconds) and automated quantification of virus infection in cell culture to evaluate the efficacy of NAbs and antiviral drugs using reagents and equipment present in most routine diagnostics departments.
Read more